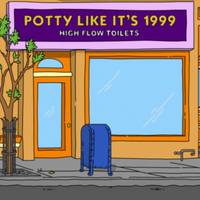 "POTTY LIKE ITS 1999"

A reference to the Prince song, "1999."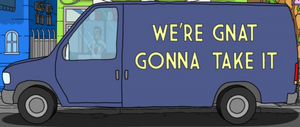 "WE'RE GNAT GONNA TAKE IT"

A play on the Twisted Sister song, "We're Not Gonna Take It."
"The Should I Sautee or Should I Mango Burger" - (comes with sauteed onions and mango salsa)
A play on the Clash song, "Should I Stay or Should I Go."
"Do the Cremini, Do the Thyme Burger"
"Do the crime, do the time."
Mort resembles Falkor from the 1984 film "The Neverending Story" and Bob rides him the way Bastian does in the iconic scene.