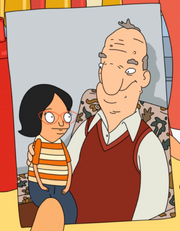 Burt was Linda & Gayle's maternal grandfather. He passed away before his great-grandchildren were born.
In "The Quirkducers", Linda finds a potato which bears a striking resemblance to him. He appears in a photograph Linda shows to Teddy.
Profile
Appearance
Burt had fair skin and wrinkles. He wore a dark red outfit.
Relationships
He was Gloria's father and Al's father-in-law. Linda & Gayle are his granddaughters, Bob is his grandson-in-law, Tina is his older great-granddaughter, Gene is his great-grandson and Louise is his younger great-granddaughter.
Gallery