The end credits sequence of a Bob's Burgers episode frequently changes akin to the Burger of the Day or the Store Next Door. The end credits consist of a scene usually involving Bob and the family at work but can take place anywhere. Usually, elements from the episode reappear during these scenes like songs, characters and additional scenes sometimes. The first nine broadcast episodes in Season 1 (from "Human Flesh" until "Spaghetti Western and Meatballs") use the Comic Sans MS typeface on the opening and end credits. Starting with "Burger War", a custom font inspired by the one used for the show's logo is used and has featured ever since. However, the copyright year and production code still appear in Comic Sans.
Every episode in Season 1 apart from Sacred Cow featured a shot of the family working in the kitchen with Tina and Louise constructing a burger, Bob cooking burgers, Linda appears through the hatch about halfway through to collect a burger to be served and Gene walks in from off-screen in the burger suit. In Season 1, Gene walks across the entire screen walking through the credits but from Season 2 onwards the credits completely obscure him and only appears in the restaurant for the last few seconds if no variant of Gene is used.
Standard credit sequence, one of only two episodes to play the opening theme music.
Standard credit sequence, one of only two episodes to play the opening theme music.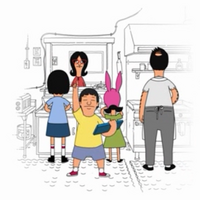 Standard credit sequence. Gene dances and plays his house composition on his keyboard.
Standard credit sequence. A Latin-influenced version of the theme plays
Standard credit sequence. A slow piano version of the theme plays.
Standard credit sequence. Lifting Up the Skirt of the Night sung by John Roberts plays.
Standard credit sequence. The espionage music that is heard when Louise sneaks into her/Teddy's room plays.
Standard credit sequence. The butts song from Linda's nightmare plays, after that some scene music plays Edith Cranwinkle is heard saying "Let's get out of this ass parlor, it stinks."
Standard credit sequence. Banjo theme plays. Last episode to use original credits font.
Standard credit sequence. Gene's song "Three Sides Don't Make a Square" plays, Linda joins in and then persuades Bob to, after seeming a little reluctant during two lines he then belts one out massively. This is the first episode to use the current credits font.
Standard credit sequence. A remixed version of the family's Weekend at Morts song plays
Standard credit sequence. The sound of feedback from John Van Horton and the Music Extrusion's amplifiers plays, the sound cuts off just before they play a song.
Standard credit sequence. An audio clip of Gene telling Mr. Fischoeder where to buy burgers while baseball organ music plays.
Season 2
| Episode | Credits | Notes |
| --- | --- | --- |
| The Belchies | | Standard credits sequence. A re-recorded version of Cyndi Lauper's "The Goonies R Good Enough" titled "Taffy Butt" with new lyrics reflecting on the episode's events plays. Jimmy Jr. enters the kitchen dancing wildly. He then leaps out of the kitchen into the ground floor of McCaffrey's taffy factory and continues to dance. Eventually, Tina appears and Jimmy Jr. settles down into a simple swing rhythm, Tina proceeds to dance with him. First time the sequence runs longer than the actual credits. |
| Bob Day Afternoon | | Standard credit sequence. No music is heard. A toy car comes into view and drives around the kitchen, Gene then appears holding a remote control. The car's wheels then get stuck between the safety mats on the kitchen floor. Eventually, the car gets dislodged and Gene drives it out of the kitchen into a hallway where a college dorm door is shown. The sound of a Seth the robot college student pleasuring himself is heard followed by static noises and then an explosion. |
| Synchronized Swimming | | Standard credit sequence. Linda appears through the hatch wearing the Navajo warrior mask she made for Gene. The music from Bob's ice cream fantasy sequence plays. |
| Burgerboss | | An 8-bit version of the standard credits sequence is shown along with score alerts whenever Bob flips a burger. A fast 8-bit version of the theme plays. |
| Food Truckin' | | An extended performance of Oil Spill by Tabitha Johansson. First credits sequence not to feature the restaurant. |
| Dr. Yap | | A credits scene where Tina watches and takes notes on the Prince of Persuasia's video, Gene and Louise eventually come in to watch with Gene holding the dead squirrel from the final sequence. |
| Moody Foodie | | Standard credits sequence. Reggie appears dancing like Michael Madsen in "Reservoir Dogs" as he did to the Moody Foodie while a Stuck in the Middle With You style parody of the theme plays. |
| Bad Tina | | Standard credits sequence. A remix of the original theme plays. The whole restaurant is in black and white. The kitchen remains black and white until Tina runs in dressed as she was in her friend fiction story. Linda and the front of house area of the restaurant become color when Linda touches the plate Louise gives her. |
| Beefsquatch | | Standard credits sequence Gene starts dancing in the Beefsquatch mask, Linda appears through the hatch dancing while reciting her lines from when she flashes her breasts on TV. Gene's moans from when he was playing with his remote control helicopter are sampled. |
Season 3
| Episode | Credits | Notes |
| --- | --- | --- |
| Ear-sy Rider | | Heavy rock music plays while the kids are seen riding off into the sunset dressed in biker gear and rider their bicycles. A pair of rabbit ears form on top of the sun which symbolizes Louise's hat. |
| Full Bars | | Standard credits sequence. A mellow guitar version of the theme music plays. Bob is alone cooking in his Halloween costume. The spirit of Teddy's dead guinea pig Frances is seen floating in the kitchen a la Watership Down. Linda enters in her Halloween costume and starts to dance with Bob. |
| Bob Fires the Kids | | Standard credit sequence. Mickey's calypso song plays and the camera pans down into the basement where Mickey is shown singing and attempting to break into the bank. |
| Mutiny on the Windbreaker | | Standard credit sequence, The Funk music played by Captain Flarty to obscure Bob's cry for help plays, Flarty appears dancing in the restaurant. Gene comes in and starts dancing with his keyboard. Louise enters with her talons and starts dancing while Linda appears dancing behind Flarty while holding a plate of burger and fries. |
| An Indecent Thanksgiving Proposal | | Standard credit sequence. Linda sings her thanksgiving song, Bob continually pleads for her to stop but she refuses. Then the kitchen goes dark and Linda slides in with the spotlight on her and performs the song again. Tina and Louise move in time to the music. Gene comes in and does so as well. |
| The Deepening | | Standard credit sequence, Teddy comes in holding a ladder which he takes offscreen, Teddy then walks back through the kitchen, he returns with some planks of wood and an angle grinder, sometime after he walks off screen again the sound of the saw is heard. He is presumably repairing some of the damage sustained by the mechanical shark attack. |
| Tinarannosaurus Wrecks | | Standard credit sequence, an extended remix of Linda's diarrhea song plays. A butterfly and a cormorant fly in and startle Bob. |
| The Unbearable Like-Likeness of Gene | | Standard credit sequence, Doug appears singing and dancing along to the jingle he envisioned for Bob's Burgers. Linda briefly acknowledges him. |
| God Rest Ye Merry Gentle-Mannequins | | Standard credit sequence, Chet and Nadia appear in front of the counter sitting dead still. Linda waves her hand in front of Chet's eyes, they don't move. Vibrators rattle across the floor while Gene chases after them on his knees. |
| Mother Daughter Laser Razor | | Standard credit sequence, Linda appears through the hatch holding a laser gun and fires at Louise. Louise then mysteriously produces a gun and runs out into the restaurant and engages with a fight with Linda. Gene comes in from off screen only wearing his t-shirt. An extended version of Linda's hair braiding song plays. |
| Nude Beach | | Standard credit sequence, Hugo appears sat eating with the nudists from the Nudecathlon. A remix of Tommy's good at sex song plays. |
| Broadcast Wagstaff School News | | Standard credit sequence. Gene is cooking burgers on the grill dressed as Bob while standing on a step stool, he and Bob exchange glances. Linda blows a kiss and Gene catches it, this leads to intense staring from the two. The mad pooper song plays. |
| My Fuzzy Valentine | | Standard credit sequence. Linda appears singing her Valentines day song through the hatch. Mort and Teddy are also seen eating at the bar. |
| Lindapendent Woman | | Standard credit sequence. The disco minute music plays, Tina and Louise start moving and this becomes more evident, Linda comes in dancing energetically as does Gene, Right at the end Bob breaks out into a Saturday Night Fever-esque move. |
| O.T. The Outside Toilet | | Gene dances around the toilet to John Roberts' cover version of Eddie Money's "Baby Hold On". |
| Topsy | | Topsy and Thomas Edison appear singing Electric Love, a heart-shaped lightning bolt appears and the camera pans upwards. Edison and Topsy are now singing the song on a cloud floating up. Cherub versions of Gene, Louise and Tina appear singing the background vocal parts. On another cloud, Nikola Tesla appears looking rather jealous. |
| Two for Tina | | Tina is sat on a bench. Jimmy Jr. and Gene enter in the horse costume and Jimmy Jr. sings T.I.N.A. A soundbite of Tina saying "Oh, that's nice, because you're a horse" plays over the production company logos. |
| It Snakes a Village | | Gene sings a song about his fear of snakes. A soundbite of Gene singing an ode to Bitsy plays over the production company logos. |
| Family Fracas | | Linda and Gene are sat on the Living room sofa watching Pam's Court. Gene is eating goo, he offers Linda some, she accepts. |
| The Kids Run the Restaurant | | Linda performs an original song on stage at the Meatgrinder about the events of the episode with the help of some sailors. |
| Boyz 4 Now | | Standard credit sequence. the song "I Wanna Hear Your Secrets" plays and Louise starts dancing. Bob glances to look at Louise, she stops. When Bob's head is turned back she dances again the restaurant then starts flashing and eventually it becomes a stage where Boo Boo is performing the song. Louise begins to dance and jump along with Boo Boo. She then starts to slap him multiple times. |
| Carpe Museum | | Standard credit sequence. A mashup of Linda's chants set to music plays. Linda is seen chanting through the hatch occasionally. |
| The Unnatural | | Standard credit sequence. Gene appears in baseball uniform doing Electric Slide while a cover version of the original song plays. Louise comes in and proceeds to whack Gene in the nether region with a baseball bat. Tina leaves the kitchen and returns with and espresso and sings "Boogie Woogie Woogie" in between vocal phrases. Linda appears dancing through the hatch. |
Episode
Credits
Notes
A River Runs Through Bob
Standard credit sequence. Tina appears singing a Thundergirls song. Squirrels attack Bob.
Fort Night
The kids including Darryl plus Andy and Ollie are sat eating the candy they stole from Millie. Andy and Ollie feed each other. A song about Darryl's favorite blog Candy Randy plays, with the lyrics appearing on screen.
Seaplane!
Standard credit sequence Tina appears flying around the restaurant while the Quickie Kiss It song plays like in her earlier fantasy sequence.
My Big Fat Greek Bob
Standard credit sequence. Bob appears alone in the kitchen, he is still wet from Operation Spit Take while the kids are dancing with the guests of Linda and Gretchen's lady goods meeting and with the college students Bob took home to make dinner for. Dr Yap. enters and starts dancing towards the end A song about the sex toy Stinky Pete plays. An audio clip of Linda throwing her voice over a stinky pete toy from an earlier sequence plays over the production company logos.
Turkey in a Can
Standard credit sequence. Gayle and Linda appear singing Gene's thanksgiving song through the hatch. A rat in a top hat briefly scurries across the floor in reference to something Teddy mentioned earlier.
Purple Rain-Union
The Ta Tas perform a song about Linda's post triple pregnancy body "Not bad for having three kids". Tina, Gene Louise and Jen climb up on stage Linda introduces the kids as being the subject of the song while Jen dances in the background. This is the first episode where the credits appear below the sequence.
Bob and Deliver
An in credits scene where Teddy is jumping inside the bounce house at his cousin's wedding while intoxicated. This makes him vomit. He then exits to announce that someone threw up in there to some children, he then offers them the chance to dance with him.
Christmas in the Car
Standard Credit sequence 'Jingle in the Jungle' plays. Teddy appears dressed as Santa while carrying Louise on his shoulders. Teddy offers her a Christmas tree cookie and she bites it out of his hand Tina and Linda take a cookie each from the plate on the hatch. Gene appears from below the hatch and steals the plate.
Slumber Party
The family apart from Louise, Harley, Jodi, Abby and Little King Trashmouth take part in a slumber party fashion show. Louise and Jessica have a pillow fight.
Presto Tina-o
Standard credit sequence. Mars Sazerac magically appears from a cloud of smoke and then disappears again. A dove flies through the kitchen, some flowers grow out of a ketchup bottle, Gene floats in.
Easy Com-mercial, Easy Go-mercial
The television at Bob's Burgers plays a finalized version of the originally envisioned commercial. The sequence initially appears full screen but then it shrinks to the left-hand side of the screen and the credits then start.
The Frond Files
Tina, Gene and Louise perform "Farts Will Set You Free" to a series of striking visuals along with the lyrics on screen.
Mazel Tina
Standard credit sequence. A version of Hava Nagila sung by Tina plays. Tammy's Aunt Frida dances in the restaurant.
Uncle Teddy
Standard credit sequence. An anthropomorphic version of the hair clog walks on screen and starts dancing to a melodica remix of the song played during the montage. Eventually the kids join in.
The Kids Rob a Train
Standard credit sequence. Bob and Linda appear covered in wine stains while the kids appear covered in chocolate stains. A theatrical version of the theme plays.
I Get Psy-chic Out of You
Standard credit sequence. A mash-up of Linda's psychic moans set to music plays. Teddy dances with the woman he met at the racetrack.
The Equestranauts
Standard credit sequence. Bob is cooking in his Equestranauts costume. Tina is playing with Chariot on the other side of the hatch. The Equestranauts theme song sung by the cast plays while the lyrics are displayed on screen.
Ambergris
Standard credit sequence Linda, Teddy and a customer are dancing and responding to the Samba DJ, Sergio's song.
The Kids Run Away
Takes place in Gayle's apartment. She reads her "Happy things we should send in to space" poem set to music.
Gene It On
Standard credit sequence. Linda chants and dances to a marching band version of the theme.
Wharf Horse
A James bond-esque sequence covering the events of both this episode and the corresponding episode. Linda sings a Shirley Bassey-esque song about Wonder Wharf.
World Wharf II: The Wharfening
Standard credit sequence Tina walks off screen halfway through and returns holding the key that she swallowed, Gene is sat on the floor eating shrimp from Pierre's. A carousel version of theme plays, Linda swoons to it when she appears at the hatch.
| Episode | Credits | Notes |
| --- | --- | --- |
| Work Hard or Die Trying, Girl | | The kids sing "Work Hard or Die Trying, Girl" accompanied by Carly Simon. |
| Tina and the Real Ghost | | Standard credit sequence, The shoebox containing Jeff floats around the kitchen and front of house area of the restaurant. Linda takes notice when she appears on screen. Gene walks beside the shoebox when he enters. |
| Friends with Burger-fits | | Standard credit sequence, Linda sings her friendship song on the other side of the hatch. Teddy sings towards the end. |
| Dawn of the Peck | | Standard credit sequence, Bob sings along to Donna Summer's "Love Is in Control (Finger on the Trigger)". |
| Best Burger | | Standard credit sequence, the kids are covered in fudge similar to the end credit sequence in "The Kids Rob a Train" but Linda is as well, Bob does not appear stained. Gene dances through the kitchen to "Hot Fudge Car Wash", a parody Rolls Royce's "Car Wash" which also incorporates elements of Bee Gees "Stayin' Alive". |
| Father of the Bob | | Takes in place in Big Bob's kitchen, Bob and Big Bob are cooking a burger and a grilled cheese respectively on the grill, Tina and Louise peer in, Linda places an order and Gene runs in covered in baked beans. |
| Tina Tailor Soldier Spy | | Standard credit sequence, the espionage theme from mid-way through the episode plays with the raspberries from troop 257's handshake played over the top. Bob is wearing a ripped basketball jersey and on his feet are a cowboy boot and a slipper. Gene walks in and presents Bob with a chullo, Bob then proceeds to wear it, ends with the "257" chant. |
| Midday Run | | Standard credit sequence, Zeke appears in the restaurant performing in the Wagstaff Whaler suit. A soundalike version of 2 Unlimited's "Get Ready For This" plays. |
| Speakeasy Rider | | Standard credit sequence, Tina and Louise are holding on to the Kingshead Island Grand Prix trophy that they won, Louise only uses her right hand and Tina only uses her left hand. Gene is seen in the restaurant waving a green flag around. An original song "Racing With the Road" plays. |
| Late Afternoon in the Garden of Bob and Louise | | Standard credit sequence, The Happy Place/Crappy Place song plays. There are plants on the windowsill, they move in time to the music as does Bob who is wearing Linda's sunhat. |
| Can't Buy Me Math | | Standard credit sequence, Darryl performs the song he sung at the dance. The kitchen is bathed in lights like at the dance. |
| The Millie-churian Candidate | | The video that Teddy mentions earlier in the episode that includes his hammer pounding nails plays. Teddy sings Natalie Merchant's "Wonder". |
| The Gayle Tales | | Standard credit sequence, Gayle dances the Heinie Liney with Stacy. Tina and Louise touch butts and Linda comes in the kitchen instead of collecting the plate Louise puts on the sill, she touches butts with Bob, she exits the kitchen and collects the plate later on than usual. |
| Li'l Hard Dad | | Standard credit sequence, Linda dances and sings to the tap dancing routine she teaches Tina. |
| Adventures in Chinchilla-sitting | | Standard credit sequence, Linda dances and sings to "Date Night" which she sang at the start of the episode. Princess Little Piddles enters midway through and starts dancing. |
| The Runway Club | | Standard credit sequence, Tina, Gene and Louise are dancing on the counter, they're moves are the same as shown in the dance scene in "The Breakfast Club". A parody version of Simple Minds "Don't You Forget About Me" with lyrics about cotton candy plays. |
| The Itty Bitty Ditty Committee | | Itty Bitty Ditty Committee perform "Burgers and Fries" in a similar fashion to earlier in the episode when Regular Sized Rudy and Peter Pescadero start jamming, Darryl also appears. |
| Eat, Spray, Linda | | Standard credit sequence, Linda appears dancing through the restaurant dressed in spa day attire with face cream on her face. She also later appears with a Bloody Mary made from the tomato bath she was having before the credits started. She doesn't pick up the plate Louise leaves on the counter. Tim the hotel pianist's song "BM in the PM" plays. First end credits sequence to feature Bob's new design with his t-shirt going below his apron tie. |
| Housetrap | | Standard credit sequence, Teddy sings a song about and dances with Helen. First end credits sequence to feature Linda's v-neck collar. |
| Hawk & Chick | | A trailer for a Hawk and Chick boxset plays, credits are displayed below rather than to the right of the action. |
| The Oeder Games | | Slow motion shots of the characters being splashed with water balloons accompanied by Bob singing Nena's 99 Red Balloons. (Animation Error: Bob's sequence has a green balloon zooming towards his back, but at the end changes into a red balloon.) |
| Episode | Credits | Notes |
| --- | --- | --- |
| Sliding Bobs | | Standard credit sequence. A song, Fate is Great made up of the kids rhymes from earlier in the episode plays. The parallel universe versions of the characters from the Hugo's Hot Dogs segment of the episode appear along with the real Belchers. Linda's pet cactus plant with the "Robo-stache" appears at the window. |
| The Land Ship | | Standard credit sequence. Jim Skillman, in character as Ms. Patience Headbottom performs a song along with other re-enacting personnel in the restaurant, "Singin' a Song". |
| The Hauntening | | The Belcher Family are shown singing along to the Boyz4Now music video "I Luv You So Much (It's Scary)". |
| Gayle Makin' Bob Sled | | Standard credit sequence. The lights dim in the kitchen and a dancing repaired turkey enters. Gayle and Bob scat and Gayle and Linda sing Linda's "Thanksgiving for Everybody" song. Later, the turkeys legs break and Mr. Business enters and begins to eat the remains. |
| Nice-Capades | | Calvin Fischoeder sings drunkenly a song about bourbon at the piano. |
| The Cook, the Steve, the Gayle, & Her Lover | | Standard credit sequence. The kids play "Amor, por favor" a song they serenaded Gayle and Mr. Frond with in the episode. The kitchen is illuminated with blue lights. Gayle and Mr. Frond make out with each other in the restaurant. Linda swoons to the music. |
| The Gene & Courtney Show | | Standard credit sequence. Gene and Courtney dance to "Hot Ham and Cheese Day" a song made up from a jingle idea Courtney suggested earlier in the episode. Ms. LaBonz and Ms. Merkin are also shown dancing in the restaurant. |
| Sexy Dance Healing | | Standard Credit Sequence. Bob is wearing sandals and a band of Jairo's scrunchies as featured in the episode. Linda does her 'Muse Dance' featured earlier on in the episode set to music, Bob notices her doing so. Tina is shown in the restaurant practicing Capoeira. |
| Sacred Couch | | Standard Credit Sequence. The Couch Burners song, "If You Love Something, Set it on Fire" plays, the family, the Sofa Queen and Sofa Jester dance. |
| Lice Things Are Lice | | The Belcher family repeatedly sit on the new bar stools that imitate flatulence. |
| House of 1000 Bounces | | Starts in the kitchen, Linda walks in and is surprised to see Bob is missing. The shot pans up to the bathroom in the apartment where Bob is bathing with the pigeon featured in this episode. A song, "Do the Dirty Pigeon" plays, Gene later comes in to use the toilet. |
| Stand by Gene | | Standard credit sequence. Gene and Zeke appear in the restaurant singing about the two-butted goat. Louise is removing the napkins stuck on all the walls. Jimmy, Jr. enters near the end and starts dancing. |
| Wag the Hog | | Standard credit sequence. A song, "Butt Phone" performed by Critter plays. Critter, Mudflap, Sidecar, Kenny and a One Eyed Snakes member appear dancing in the restaurant. The family dance to the music. The family's movements are copied from the credits sequence for Sacred Couch minus Tina's hair flip when Louise takes the plate over to Bob. |
| The Hormone-iums | | Tina sings The Cars song "Just What I Needed" backed up by other boys also attending Jocelyn's party. |
| Pro Tiki/Con Tiki | | Standard credit sequence. A song, "I Love Charades" performed by Warren plays, Gene dances in a hula skirt and a coconut bra. The background vocals are mimed by one of the tiki figures in the restaurant. |
| Bye Bye Boo Boo | | Standard credit sequence. Boo Boo performs "Tall Enuff 2 Ride Your Heart" in the kitchen, the Belcher Family act as backup dancers. |
| The Horse Rider-er | | Standard credit sequence. Tina and Jericho dance in the kitchen. |
| Secret Admiral-irer | | Standard credit sequence. Meryl and the admiral dance in the restauarant, Gene dances with the goat Taj brought to the restaurant. |
| Glued, Where's My Bob? | | Begins with Bob and Louise singing "Bad Stuff Happens in the Bathroom" together in the restaurant, they are later joined by other characters from the show singing along the sidewalk. |
| Episode | Credits | Notes |
| --- | --- | --- |
| Flu-ouise | | Standard credit sequence. Louise dances along with the good and the bad Kuchi Kopi. The anthropomorphic incarnations of her toys dance in the restaurant. |
| Sea Me Now | | Teddy sings "Beyond the Sea" while the Belchers make use of props to create a sea setting. |
| Teen-a Witch | | Mr. Fischoeder drives along Ocean Avenue in his golf buggy picking up Jack-o-lanterns from outside the properties. Teddy briefly appears driving his truck with bikes, the biker who appeared twice in the episode is seen reporting his bike being stolen and Tina flies on a broom in her "Sand-witch" costume. A song, "Witchy-Whitchy" plays. |
| They Serve Horses, Don't They? | | Characters including the Belcher Family, Jimmy Pesto, Jr., Andy and Ollie Pesto, Jack, Jack's son, Hugo and Ron slide along the slippy slide at Jack's birthday party. |
| Large Brother, Where Fart Thou? | | The final shot fades to white into the credits with the lobster balloon keeping color. The lobster balloon starts singing "The Briefest of Glances." Balloons of Tina, Joe Harrison, and various colors float up near the end. |
| The Quirk-ducers | | The cast of The Quirky Turkey perform the songs from said musical. Longest credits sequence to date. |
| The Last Gingerbread House on the Left | | Standard credit sequence. Linda sings "You can't Spell Christmas Without Us" with Oscar and Calvin's friends. Gene comes in riding on Godfrey's wheelchair. |
| Ex MachTina | | Standard credit sequence. Tina and Jimmy Pesto, Jr. are shown dancing in the kitchen. Jimmy, Jr. is doing his 'desert island dance.' He briefly tires out but eventually resumes. Linda is controlling Tina's robot with Gene and Louise riding on it. A soundbite from the episode of Jocelyn saying, "Look at me, look at me, I'm a robot" plays over production logos. |
| Bob Actually | | A song, "Sky Kiss", plays over striking, colorful visuals with the characters and their Valentines kissing. |
| There's No Business Like Mr. Business Business | | Standard Credit Sequence. Bob gives Louise the burger to put on the counter much earlier than usual then Mr. Business walks along a shelf before leaping on to Bob who then goes offscreen. Linda is seen eating cat food before she picks up the burger. Snoodle comes in carrying buns in his mouth, Louise takes them and places them on the prep station. |
| A Few 'Gurt Men | | Standard credit sequence. Herbie, the food scammer/celebrity impersonator is shown performing as Borat dancing in a line with Teddy, Mort, Mort's mother and her birthday party guests, and Jimmy Pesto. Another line consisting of Judge Conklin and all Wagstaff School faculty involved in the trial appears while the first line dances back into shot in the background. |
| Like Gene for Chocolate | | Gene walks inside the Chunky Blast Offs display, he later starts dancing and later falls over. Chunky Blast Offs jingle plays. Linda is eating candy. |
| The Grand Mama-pest Hotel | | The family and Teddy are shown dancing in the apartment. Linda is wearing her disguise from the episode and Gene is wearing his underpants on his head as he did during the "dad-chelor party." |
| Aquaticism | | Standard credit sequence. Teddy does the Tuscaloosa Twister in the restaurant. |
| Ain't Miss Debatin' | | A trailer for the family's Meat Man movie plays. |
| Eggs for Days | | Big Baby Pudding Snatcher and her offspring walk through the alley behind the restaurant. Teddy and Linda watch on. A cover of Randy Crawford's "Street Life" plays. |
| Zero Larp Thirty | | Bob and Linda make up lyrics to the theme music to Winthorpe Manor while driving. |
| The Laser-inth | | Bob and Gene play air guitar to Zentipede, Louise is playing with Francine, and Linda is eating a flour-less birthday cake. |
| Thelma & Louise Except Thelma is Linda | | Standard credit sequence. Teddy and Bob sing "(I've Had) The Time of My Life" from Dirty Dancing and perform the famous lift from the movie's climax. Gene enters on screen from the left. |
| Mom, Lies, and Videotape | | Standard Credit Sequence. Linda sings Lionel Richie's "Dancing on the Ceiling." Tina, Gene, and Louise are dressed as their respective characters from their re-tellings of the cabaret. Linda starts to dance on the ceiling near the end. |
| Paraders of the Lost Float | | The revellers of the Bog to Beach parade dance to "Hot Pants Rain Dance." |
| Into the Mild | | Standard credit sequence. Bob sings Sly and the Family Stone's "I Want to Take You Higher" while in a climbing harness. Later, a rope comes down and Bob is lifted up off screen. |
| Episode | Credits | Notes |
| --- | --- | --- |
| Brunchsquatch | | A montage of Bob's Burgers fan artwork appears while Gene's improvised "I'm a little tiger" song plays. |
| The Silence of the Louise | | Millie and Louise dance on the dance mats in the kitchen. A song, "Playdates", plays. Teddy is shown eating in the restaurant and begins choking. Bob notices the choke hazard poster is covered by one of Teddy's inspirational posters. Bob comes to his rescue and perform the Heimlich maneuver on him. Scene is shifted over to include the inspirational poster. |
| The Wolf of Wharf Street | | Linda, Tina, Gene, and Louise wear their Halloween costumes. Bob has his leg in cast and is using a crutch. Linda sings about being a "fun mom" on Halloween. Al the alpaca appears in the restaurant and Lulu comes in with Gene riding on her. Bob flips a burger into Lulu's mouth. |
| Sit Me Baby One More Time | | Tina performs "Bad at Being a Nun (But Great at Having Fun with Kids)" in the restaurant with Linda also singing about how to pee in a restaurant. Kendra's teddy bear, Mr. Boom Boom, dances in the kitchen and Gene walks in with his chocolate cake from Savory. |
| Thanks-hoarding | | Teddy and the Belchers sing a song about how Teddy can fix anything. |
| The Bleakening, Part 1 | | Using some animation from a montage seen in the hour-long version, Linda interrogates her party guests over her missing christmas tree and decorations. |
| The Bleakening, Part 2 | | Miss Triple X-Mas and various other characters sing "Twinkly Lights." Extended version used for hour-long version. |
| V for Valentine-detta | | Linda, Tina, Louise, and Becky Krespe are being driven around by Nat while a song, "Girl Power Jam," plays. |
| Y Tu Ga-Ga Tambien | | A montage of characters playing gaga ball while a song plays. |
| The Secret Ceramics Room of Secrets | | A song, "Makin' It By Hand for Gram and Gramps" plays while psychedelic images of handmade crafts float over the screen. Tina, Gene, and Louise are then shown dancing on a rotating pottery wheel. |
| Sleeping with the Frenemy | | Tina and Tammy sing a song, "We Got the BFOT On the Kiss Spot." |
| The Hurt Soccer | | Linda, Gene, Teddy, Ms. Merkin, and Sheila perform a song from TSA: the Muscial. |
| Cheer Up, Sleepy Gene | | Gene and Alex perform a song. |
| The Trouble with Doubles | | Bob and Linda sing a song about "best couple friends" with improvised mannequins representing Nicholas and Ruthanne Donahue which Gene and Louise operate. |
| Go Tina on the Mountain | | Ranger Carl sings the his weasel song with Tina and Louise joining him. Gene comes walking in wearing his raincoat and holding Carl's stuffed weasel. |
| Are You There Bob? It's Me, Birthday | | Linda sings a song about forgetting Bob's birthday. Bob's vintage bacon weight appears on the grill. |
| Boywatch | | The kitchen floor is covered in sand while Tina sings a song about "sugar cookies". Can't Breathe-y Stevie appears and Gene comes in wearing a one-piece bathing suit. |
| As I Walk Through the Alley of the Shadow of Ramps | | Bob and Louise ride a flying bicycle singing Meat Loaf's "Bat Out of Hell" with Regular Sized Rudy riding a large bat. |
| Mo Mommy Mo Problems | | Linda sings a song, "Mom's Are the Best" with Ethel appearing in the restaurant stained in squirrel blood. |
| Mission Impos-slug-ble | | The theme for Burobu plays with dramatic visuals of Louise and Regular Sized Rudy playing the game. |
| Something Old, Something New, Something Bob Caters for You | | Bob and Linda sing "I Do" while Louise scrubs the grill. |
| Episode | Credits | Notes |
| --- | --- | --- |
| Just One of the Boyz 4 Now for Now | | Tina rides a unicorn with the members of Boyz4Now while "The Right Amount of Boys" plays. |
| The Taking of Funtime One Two Three | | "Wheelie Mammoth" plays while the kids roll the wheelie mammoth through the restaurant. Bob cooks the chicken's egg on the grill and places it on a burger for Linda to serve. The last time the mammoth comes through the kitchen it deplaces Bob offscreen, Linda appears wondering where Bob is. |
| Tweentrepreneurs | | A song, "She's a Business Monster" plays while Tina dances in the kitchen. Louise is playing with the soda machine. The diner-dasher appears making a dash and Bob and Linda give Chase. Gene appears with googly eyes on his behind. |
| Nightmare on Ocean Avenue Street | | Tina and Louise perform a cover/parody of Salt-N-Pepa's "None of Your Business." |
| Live and Let Fly | | The Belchers fly on a giant "What About Bob?" paper airplane. First, the plane with the banner appears, then Kurt and Laverne, then a microwave oven and a toaster oven, and finally Barry B Fold on a cloud who gestures to Bob. |
| Bobby Driver | | Bob drives Edith while both sing "Radar Love" by Golden Earring. |
| I Bob Your Pardon | | Linda sings a song, "We're Keepin' Our Word", about saving Drew P. Neck. Bob is wearing the waders from the cranberry tank scene. Neck flies in and starts dancing later. Gene comes in smothering gravy all over himself. |
| Roller? I Hardly Know Her! | | Courtney sings a song about needing someone to lift her while roller dancing with Gene and Alex. |
| UFO No You Didn't | | Tina and Susmita sit at a desk with a laptop floating through space. Tina sings a song with erroneous morse code messages, Susmita corrects her throughout. A UFO appears in the background. |
| Better Off Sled | | Linda dances ballet style with Knitcracker in the kitchen while the rest of the family watches on. A song about snowballs and sledding sung by the cast plays. |
| Lorenzo's Oil? No, Linda's | | A song, "Hey Ange" plays, Louise appears with Ringo's head sticking out from under her shirt while Mr. Huggins, Gayle, Linda and Reggie dance in the restaurant. |
| The Helen Hunt | | The Belchers and Teddy sing "You Make Loving Fun" by Fleetwood Mac. |
| Bed, Bob & Beyond | | The family jump on an elongated bed with the characters from the stories while singing "Jumping on the Bed." |
| Every Which Way but Goose | | A song, "Bruce the Goose", plays while Tina, Jimmy Jr., and Bruce the Goose dance in the restaurant. |
| The Fresh Princ-ipal | | |
| Roamin' Bob-iday | | |
| What About Blob? | | |
| If You Love It So Much, Why Don't You Marionette? | | A song "Puppet Battle" plays while Vladikus, Kuchi Kopi, Dodomeki and Louise's puppet dance. Later, Tina pops up out of the water. |
| Long Time Listener, First Time Bob | | Bob plays air guitar on a mop and sings a parody of Nick Lowe's "Cruel to be Kind" about how regular fries are better than sweet potato fries. |
| The Gene Mile | | Bob watches Cake and enjoys it. |
| P.T.A. It Ain't So | | |
| Yes Without My Zeke | | |