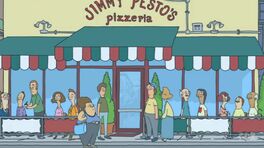 Jimmy Pesto's Pizzeria is an Italian themed restaurant across the street from Bob's Burgers on Ocean Avenue. It is owned by Jimmy Pesto, who rents the property from Mr. Fischoeder. Jimmy Jr. works as a busboy. The decor is consists primarily of Italian motifs, such as exposed brick, pictures and flags of Italy, grapes, etc., with one wall dedicated to Jimmy Pesto's "trophies". The menu features many Italian staples as well as "Pesto's Besto Burgers" and "Pesto Coladas". Entertainment includes karaoke on Tuesdays with many selections from the band Journey, and also on Tuesdays Frank and Zelda, Oldies with Goodies, perform as a keyboard/drum duo. They also host a Pastafarian Night, two-for-one pizza nights on Wednesdays and trivia on Thursdays.
Every year the restaurant host a packed out super bowl party with the game being shown on 18 screens.
Despite the rater busy custom the restaurant often receives, the food has been judged to be terrible by a panel of judges at a burger contest, Mickey and even Jimmy Pesto himself.
Employees
Plus many other staff including waiters and waitresses.