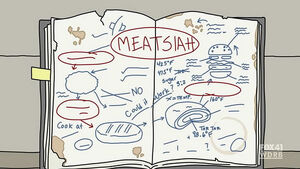 The Meatsiah is the most difficult burger known to man. Bob has only made it once successfully, according to Linda. He attempts to make sample sized sliders to give away in Jimmy Pesto's restaurant to win people back.[1]
It consists of beef tartare inside a burger medium-well inside a beef wellington.
Mr. Fischoeder says the Meatsiah is "complicated, mystical, barbaric" and he's never tasted a burger half as delicious.
References