The Bob's Burgers Music Album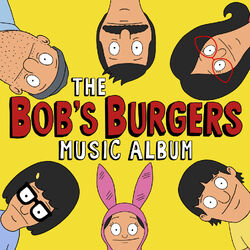 Release date: May 12, 2017
Recorded: 2010-2016
Genre: Soundtracks
Duration: 1:56:13
Record Label: Sub Pop
No. of Tracks: 112
Producer:
The Bob's Burgers Music Album is a 2017 album containing original songs from the first six broadcast season of Fox animated series Bob's Burgers.
Background
The album was first hinted at during the show's panel at the 2013 SDCC. Following that, Loren Bouchard frequently promised that the soundtrack would be coming.[1]
During the show's panel at the 2016 SDCC, it was confirmed that the album would be released in early December on Sub Pop records. Sub Pop had previously released comedy albums by cast members H. Jon Benjamin, Sarah Silverman and Eugene Mirman and Sleater Kinney's No Cities to Love which features the track "A New Wave" for which the music video was animated by Bento Box and features the main characters of Bob's Burgers.
Release and reception
On September 20, 2016, a four track extended play consisting of the full theme (including the rarely heard key change at the end), the version of "Electric Love" that appeared in "Topsy", the version of "Bad Stuff Happens in the Bathroom" that appeared in "Glued, Where's My Bob?" and the St. Vincent version of "Bad Girls", originally from "Bad Tina" was released.
On February 12, 2017, Loren Bouchard replied on Twitter to a fan's question regarding the soundtrack saying, "ON FEB 23RD ALL YOUR SOUNDTRACK QUESTIONS WILL BE ANSWERED. OR, IF THEY'RE NOT, I CAN ANSWER THEM. AND I WILL. KEEP ASKING THEM."[2]
On February 23, it was officially announced that the album would be released on May 12, 2017. Three standard versions are being released, a 2xCD set, a 3xLP+7" set, and a digital release. A deluxe limited-edition 3 LP+7" box set will also be released including "condiment-colored" vinyl (ketchup red, mustard yellow & relish green), plus a hardbound lyrics book with exclusive Bob's Burgers artwork, a soft cover sheet music songbook, three original posters, a six-piece sticker pack, and a Patch. Although now sold out, both the Deluxe Box Set and 3xLP Standard vinyl pre-orders receive a bonus art print with orders placed before 9:30 am PST 4/07/17.[3]
Target stores have the 2xCD version on their website available for pre-order including 6 Exclusive Collectable Character trading cards.
Following the announcement, a new track was released each Thursday throughout March and April ahead of the official release on May 12 with a YouTube video and being made available to purchase or stream.
| Release date | Track |
| --- | --- |
| March 2, 2017 | "Weekend at Mort's" |
| March 9, 2017 | "The Fart Song" |
| March 16, 2017 | "Electric Love" (original version) |
| March 23, 2017 | "The Diarrhea Song" |
| March 30, 2017 | "I Wanna Hear Your Secrets" |
| April 6, 2017 | "Work Hard or Die Trying, Girl" |
| April 13, 2017 | "Taffy Butt" |
| April 20, 2017 | "The Snake Song" |
| April 27, 2017 | "Bad Girls" (Bob's Buskers version) |
Despite the album having an official release date of May 12, many orders, mainly those ordered direct from Sub Pop's megamart online store, arrived up to a week before. The album was officially released for streaming at midnight depending on local territories.
The album debuted at no. 21 on the Billboard 200 albums chart with 26,000 equivalent album units. 25,000 of that sum being comprised of traditional album sales, becoming the highest-charting animated TV series soundtrack since Metalocalypse: Dethalbum III in 2012.[4]
The album was later also released as a 2X cassette tape for exclusive sale at Urban Outfitters with a limited availability of 3,000.[5]
Sequel
Record label Sub Pop confirmed the release of a second volume later in 2021 on May 6, 2021.[6]
Tracklisting
See The Bob's Burgers Music Album/Tracklisting
Gallery
See The Bob's Burgers Music Album/Gallery
Videos
References