Not to be confused with the Season 3 episode, Broadcast Wagstaff School News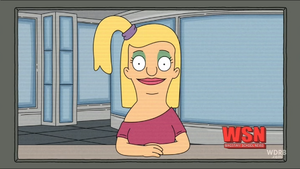 The WSN, or Wagstaff School News, is a school news program taught by Mr. Grant (Will Forte) at Wagstaff School. It first appears in "Broadcast Wagstaff School News" when Tina auditions and ends up as Staff Intern, a nobody who passes juice boxes around to the WSN Team. When Tina broadcasts her own news program, the WSN become angry that Tina's news program gets more attention and mojo than the WSN; they trick the school into thinking that she is the Mad Pooper by filming a "reenactment." After Zeke, the sports reporter, is revealed to be the Mad Pooper at the anti-smoking assembly, Tina gets her own special on the WSN known as 'The Tina Table.'
The program covers the Wagstaff School student body president election campaign in "The Millie-Churian Candidate".
The program covers the so-called Wagstaff School lice outbreak where many students, including Tammy, were quarantined. Jocelyn subs for Tammy on reporting.
In "The Hormone-iums", Jocelyn presents a segment on the play, "Mona-nucleosis", staged by the Hormone-iums.
In "Bye Bye Boo Boo", Tammy reports on Boo Boo leaving Boyz4Now.
Members
Anchor - Tammy Larsen
Sports Reporter - Zeke
Field Reporters - Andy and Ollie Pesto
Camera - Rachel Hastings
Boom Operator - Kimball Shirley
Sound - Brian LoSchavio
Lightning - Tad Stones
Copy Editor - Greg Thompson
Technical Operator - Jen Coyle
Closed Captions - Elizabeth Epps
Graphics - Hector Reynoso
Video Editor - Serguei Koucherov
Production Staff - Anthony Aguinaldo
Information Technology (IT) - Landon McCool
Staff Intern - Tina Belcher (formerly; current host of 'The Tina Table')
Trivia
Everyone except Tammy, Zeke, Tina and Andy & Ollie are considered show staff.
Gene Belcher, Louise Belcher, Jimmy Pesto, Jr., Jocelyn, Abby, Peter Pescadero, Millie Frock and Mr. Grant himself have also contributed to the program as either interviewees, guests or presenting one-off segments.
Landon McCool's position in IT is the same as the real Landon McCool's position on the show.
Gallery